27 min: Salah looks boys to nod in yet another Robertson cross but the ball Sails a * fraction * too high.
26 min: Benfica are lively-ish when they * do * get forward, but a deflected Grimaldo cross is ultimately held by Alisson.
24 min: Again it could be two, Keita Slipping Diaz through on the inside right but Vlachodimos blocking crucially. Liverpool look several classes Apart here, Let's be frank.
23 min: Everton is found in lots of space down the left by a Nunez flick, and his finish into the side netting is ultimately a disappointment.
22 min: Now Salah crosses teasingly towards Mane, but Otamendi is there just in time.
21 min: This really does have those "could kill the tie tonight" vibes.
19 min: It should be two, Mane dinking across from the left byline. Keita completely fluffs his attempted header, sending it into the ground and nowhere near goal when it was at his Mercy.
15:20
Goal! Benfica 0-1 Liverpool (Konate, 17)
Yes, that was inevitable, it? Robertson swings over a corner from the left and Konate is simply too aggressive for Benfica, leaping between two men and powering a firm downwards header into the corner. His first goal for Liverpool!
15 min: Now space for Keita, whose shot is blocked, before a wayward Thiago shot. It's hard to see Liverpool not scoring here.
14 min: "Surely, Clive, Liverpool's dynamic front three has the beating of aging former Premier League stalwarts? Benfica's real Threat comes from the crowd, intimation and the dark arts, " says Ian Copestake.
12 min: Keita and Alexander-Arnold now both test Vlachodimos in quick succession. Nunez counters and wants a free-kick on the edge of the box but doing nothing to the crowd's Fury.
10 min: And now Salah * does * reach a wonderful Mane backheel, but Vlachodimos blocks at his near post. Benfica deal with the corner but don't look so convincing at the back.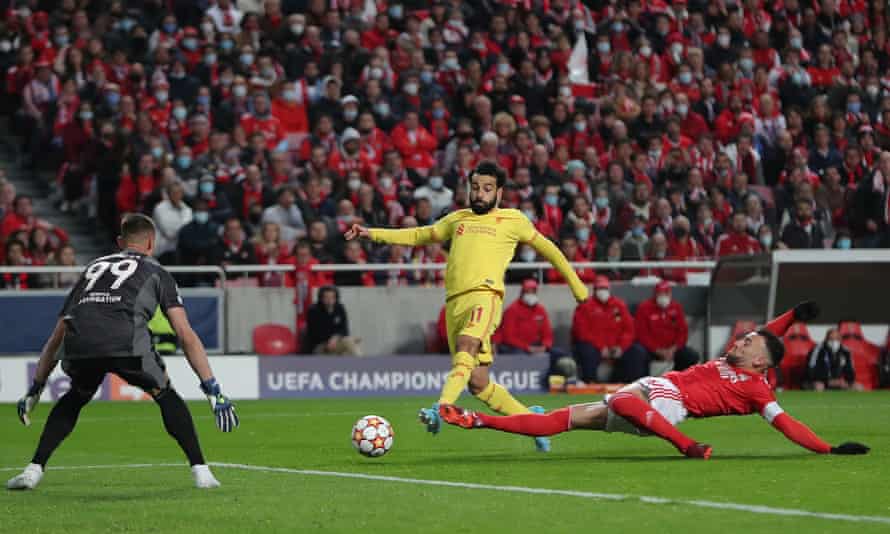 8 min: Salah * almost * gets on the end of a Diaz ball that evaded Mane. A little less weight on the ball and that was a clear chance.
6 min: Now Nunez crosses for Benfica and, although nobody is really on the end of it, Alexander-Arnold is almost caught out belatedly by Everton as he Clears.
4 min: Keita, from a decent-ish position, heads over from a whipped Robertson cross. There was space for Liverpool.
3 min: Luis Diaz, the ex-Porto player, gets some lusty early booing. Liverpool have started sparkily … but then Konate must be sharp to stop an ambitious Rafa Silva burst through.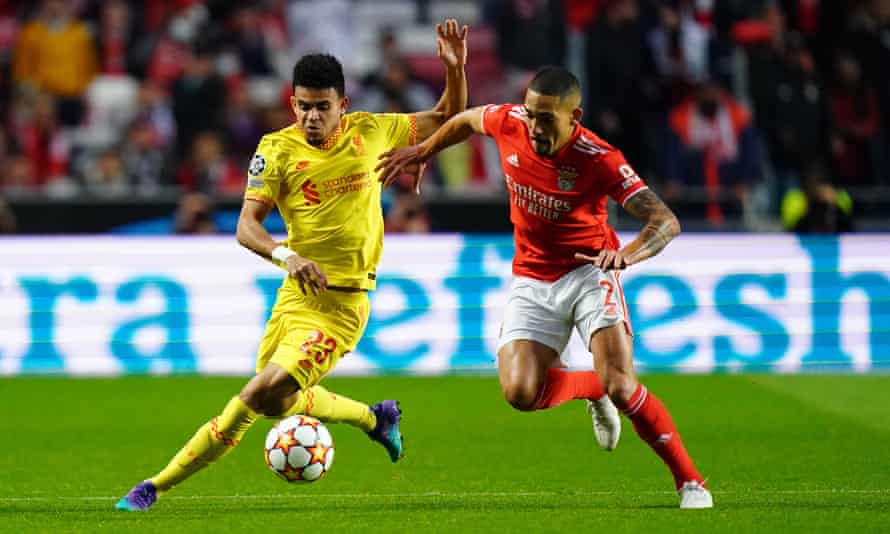 15:03
Peeeeep! Off we go!
Liverpool are in yellow, Benfica in red. Klopp's men kick us off and shoot left to right!
Now the teams are lining up to the strains of the Champions League anthem! It's a belting atmosphere, as you would expect.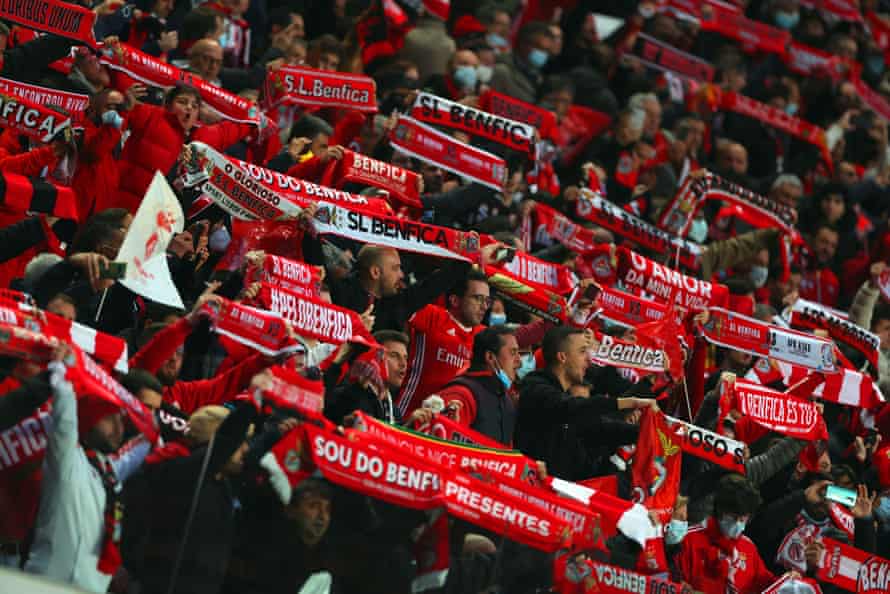 There is an eagle flying around the stadium, it's just like Selhurst Park. We'll see the teams come out soon. Fabinho, Keita and Thiago have never started a game together, it transpires.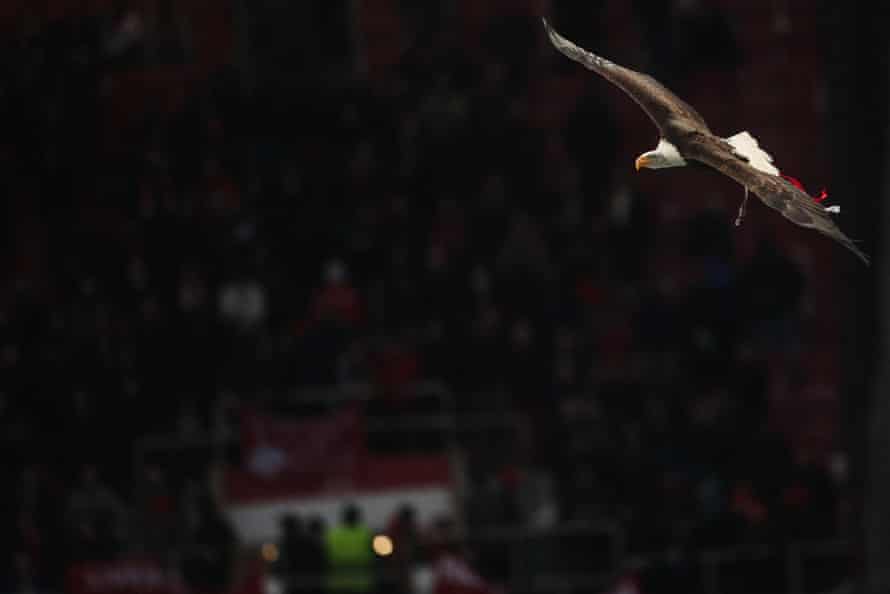 "Benfica also has a player called Rafa but I think that's best ignored," notes Stephen Carr.
After a two-and-a-half-year hiatus, the Football Weekly Pod Squad are going back out on tour. Tickets to live shows in June and July will be available here from midday (BST) on Wednesday.
Richard Hirst with another Canny Benfica lineup spot: "It's always feisty when Liverpool play Everton, so it should be good Tonight."
I mean, Let's hope so.
That's six changes for Liverpool from the win over Watford, by the way. What depth Klopp can now call upon. Recognize a few of those Benfica names? You should – the lies of Vertonghen, Otamendi and, yes, Adel Taarabt were all Premier League Favorites, in some Senses anyway.
Here is Will Unwin with the Benfica director – and Liverpool Nemesis – Simao Sabrosa:
Benfica: Vlachodimos, Gilberto, Grimaldo, Vertonghen, Everton, Darwin, Rafa, Weigl, Otamendi, Taarabt, Gonçalo Ramos. Subs: Helton, Meite, Seferovic, Yaremchuk, Gonçalves, João Mário, Lázaro, Radonjic, Dias, Almeida, Bernardo, Morato
Liverpool: Alisson, Alexander-Arnold, Konate, Van Dijk, Robertson, Fabinho, Thiago, Keita, Salah, Mane, Diaz. Subs: Kelleher, Milner, Firmino, Gomez, Henderson, Oxlade-Chamberlain, Jones, Minamino, Jota, Tsimikas, Matip, Elliott.
Quarter-final night! And you get the sense Liverpool would gladly try and finish it there and then. They could have had Worse draws than a Benfica side who are way, way off the pace in Portugal – 15 points off the lead – and certainly lack the sheen of times past.
But the Portuguese side Merit respect – they smash and grabbed it agains a decent Ajax team in the round of 16 and even thrashed what was, at the time, an awful Barcelona in the group stage. Bayern Munich also demolished them 4-0 at Estadio Da Luz, though, and it is hard not to feel that if Liverpool get an early one Tonight they could manage a few.
If not, it could well be tight, and it's worth remembering that for all the imperious form of Jurgen Klopp's men they have tended to score in ones of twos recently. Their only defeat since 28 December was last time out in the Champions League, when Inter Milan could not quite reverse their first-leg damage. This should, on paper, be a more straightforward affair – but it has more than a hint of glamor to it and Benfica will pose problems if they rise to the occasion.
Let's see if they do. Join us!